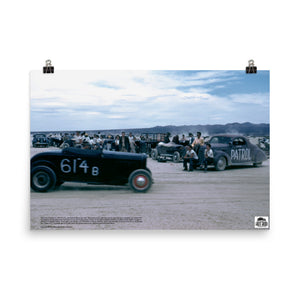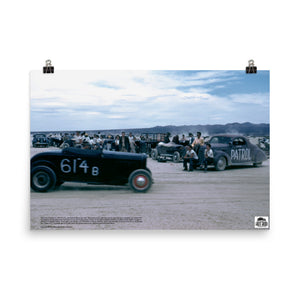 Historic Print #10: SCTA Meet at Harper Dry Lake (1947)
Welcome to August 10, 1947, S.C.T.A. meet held at Harper Dry Lake. Yucky skies were a bad omen as the meet was soon canceled. Car number 614 belonged to Jim Rawding of the Clutchers and we don't have a speed on him. On the right is Charles Dimmitt's modified Lincoln Zepher. He was in charge of the Mobile Patrols. To his right is the number 104B Roadster of Johnny Johnson. John's ride was Merc powered and timed at 122.95 mph. The number 611C Roadster was run by Bill Jenks who became famous for spun fuel tanks he built at Moon.

©2019 AHRF/10L & 10S/Steve Memishian Collection.

---

These museum-quality posters from AHRF are vivid prints made on thick and durable matte paper. A statement in any room, these puppies are just the accent your room, office, or auto shop needs.