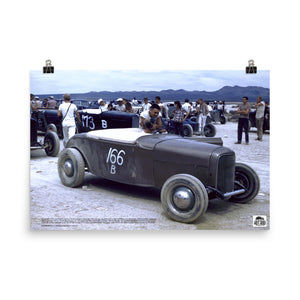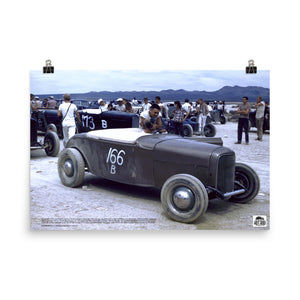 Historic Print #20: Robert Drew at El Mirage (1947)
Robert Drew of the Low Flyers in line for a run at El Mirage in September 1947. His ride was powered by a 1940 Ford flattie using filled heads, Edelbrock intake, and buddy Jack Engle's cam. He ran 119.36 mph in August, 117.49 in September, and 113.92 mph in October. Number 59 is the new Dick Kraft-Stan Betz Streamliner flying Lancers colors with '32 Ford V8 power. It ran 126.76 mph. Number 173 is West Los Angeles speed shop owner Lewie Shell's clean Merc powered Deuce that only ran 95.03 mph.

©2019AHRF/20L & 20S/Steve Memishian Collection.

---

These museum-quality posters from AHRF are vivid prints made on thick and durable matte paper. A statement in any room, these puppies are just the accent your room, office, or auto shop needs.