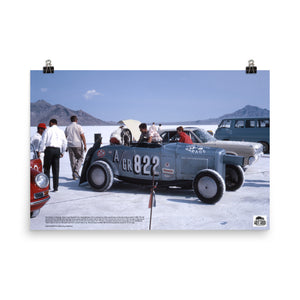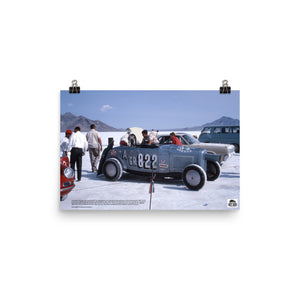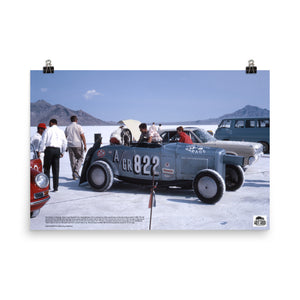 Historic Print #15: Quinton & Richards Roadster at Bonneville (1966)
The Quinton & Richards Class A Gas Roadster from Santa Barbara, CA is undergoing a little maintenance in the pits at Bonneville in 1966. The '65 record stood at 198.488 mph and shoe Arley Langlo qualified at a quick 202.47 mph and then bumped the old record to 209.140 mph on the way to becoming a member of the B-Vile 200 mph Club. On the left is the Class F GT Porsche of Douglas Gardner from Sunnyvale, CA. He qualified at 148.51 mph on the 127.795 mph record but couldn't back it up. Second place qualifier Bill Gurnee bumped the record to 137.31 mph.

©2019AHRF/15L & 15S/Julian Doty Colection.
---

These museum-quality posters from AHRF are vivid prints made on thick and durable matte paper. A statement in any room, these puppies are just the accent your room, office, or auto shop needs.