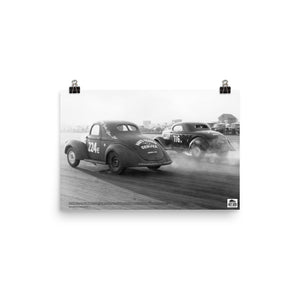 Historic Print #14: Charles McCandless & Chuck Hart at Santa Ana (1955)
Charles McCandless in his chopped '36 Ford powered by a Chrysler Hemi in the far lane has a slight lead over Chuck Hart in the family's Willys powered by a Merc Flattie. McCandless was the winner at 109.89 mph in this shot taken at Santa Ana on March 13, 1955. Hart ran Santa Ana Drag Strip during this time and would eventually go on to run Lions and work for the NHRA.

© 2019 AHRF/14 L & 14S /Jim Miller Collection.

---

These museum-quality posters from AHRF are vivid prints made on thick and durable matte paper. A statement in any room, these puppies are just the accent your room, office, or auto shop needs.