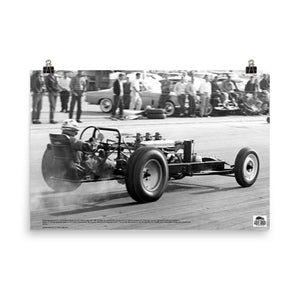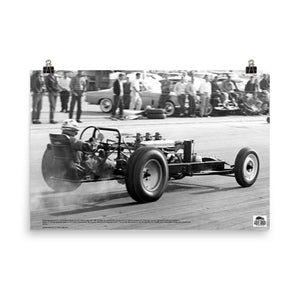 Historic Print #07: Sonny Balcaen at Santa Ana (1955)
Sonny Balcaen smokes it off the line in version two of his fuel-burning 302" GMC powered rail at Santa Ana. On November 13, 1955, he was timed at 136.98 mph. He soon ditched the three-port head for a Wayne 12-port and upped his speed to 142 mph in 10.13 seconds. Not long after this, Hilborns replaced the 97s. The car was later featured on the January '59 cover of HRM when it was painted orange and owned by Ike Iacona.

©2019 AHRF/7L & 7S/Jim Miller Collection.

---

These museum-quality posters from AHRF are vivid prints made on thick and durable matte paper. A statement in any room, these puppies are just the accent your room, office, or auto shop needs.