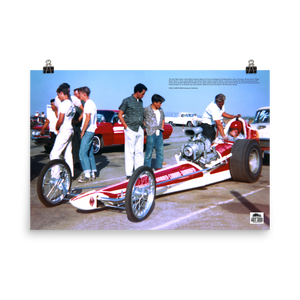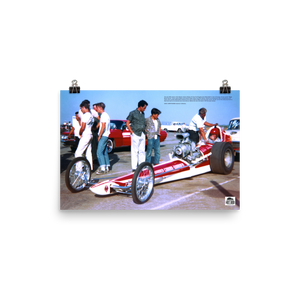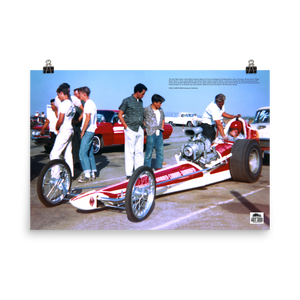 Historic Print #54: Warren-Coburn-Warran Top Fuel Dragster in Fontana (1964)
The mid 1964 version of the Warren-Coburn-Warren AA Top Fuel Dragster from Bakersfield is seen at Fontana. Known as the "Ridge Route Terrors," driver James Warren and wrench Roger Coburn and Ken Warren, teamed up running their Nitro burning blown 327" Chevy. Soon another Bakersfield resident by the name of Marvin Miller joined the team and by '65 the car lost the Chevy and found a Hemi and went on to become even more famous. Behind the rail is the team's '58 Ford push vehicle.

©AHRF/Bill Anderson Collection

---

These museum-quality posters from AHRF are vivid prints made on thick and durable matte paper. A statement in any room, these puppies are just the accent your room, office, or auto shop needs.