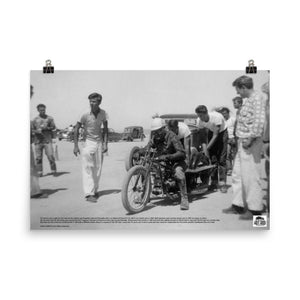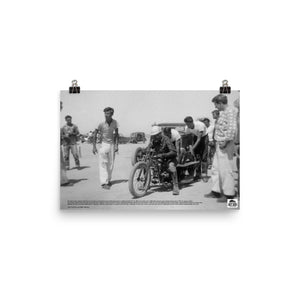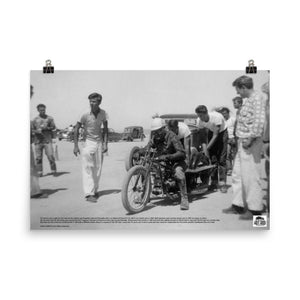 Historic Print #04: Bud Hare On His 30.5" Laydown Triumph
It's hard to pick a date for this shot as the sedans say Russetta meet but Russetta didn't run bikes and the S.C.T.A. didn't run closed cars in 1950. Both groups were running closed cars in 1951 but again no bikes.
We do know that Mr. Bud Hare was running this 30.5" laydown Triumph at Rosamond Dry Lake during Glendale Motorcycle Club events in 1950 and have him setting records of 120.20 mph in July and 126.50 mph two months later. Bud also ran this motorcycle at Bonneville in 1951 with a different intake setup to a speed of 126.728 mph. Looks like It's up to you to pick a year and race venue for supposedly the first prone position land speed bike ever built.

©2019 AHRF/4L & 4S/Jim Miller Collection

---

These museum-quality posters from AHRF are vivid prints made on thick and durable matte paper. A statement in any room, these puppies are just the accent your room, office, or auto shop needs.