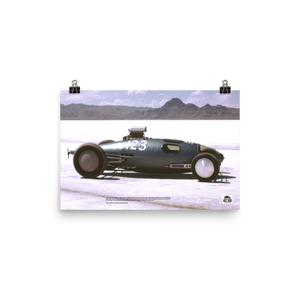 Historic Print #31: Don Colvin Lakester at Bonneville Speedweek (1962)
This unassuming Class A Lakester is the 1962 Speedweek entry of Redwood City, California's Don Colvin. Underneath that big huffer was a 442" Chrysler. Don set his sights on the '60 record of the Quincy Automotive-Brissette Brothers-Bob Summers at 251.309 mph. His only trouble was the car would only go 244.56 mph. Makes you want to cry.

©AHRF/Silveira Family Collection

---

These museum-quality posters from AHRF are vivid prints made on thick and durable matte paper. A statement in any room, these puppies are just the accent your room, office, or auto shop needs.