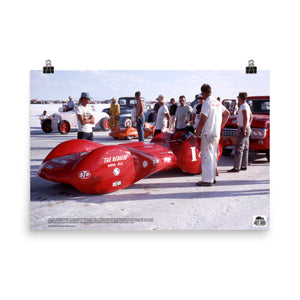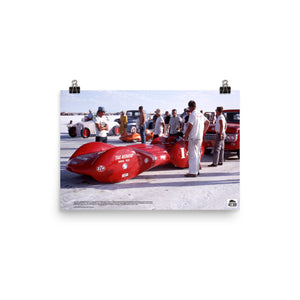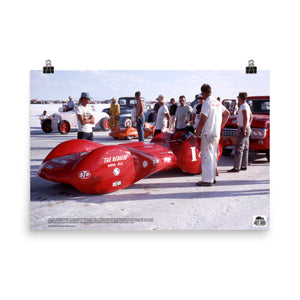 Historic Print #30: Hammon-McGrath-Whip "Redhead" at Bonneville (1963)
This sultry "Redhead" prepares for a fast ride at Bonneville back in 1963. The Hammon-McGrath-Whipp Class B entry was powered by a 396" supercharged Chrysler and was after it 1962 record of 294.32 mph. She ended up grabbing a first in class with a speed of 297.27 mph and then strutted her stuff by setting a new class record of 302.812 mph. That's the "Orangecrate" Class I Streamliner in the rear. It ran 128.20 mph for a first in class.

©2019 AHRF/30L & 30S/Julian Doty Collection.

---

These museum-quality posters from AHRF are vivid prints made on thick and durable matte paper. A statement in any room, these puppies are just the accent your room, office, or auto shop needs.