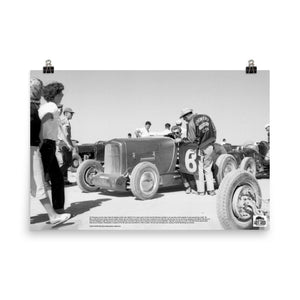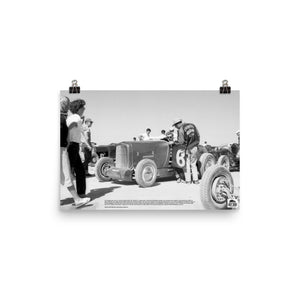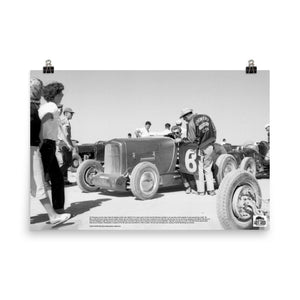 Historic Print #29: Art Tremaine & His Lakester (1949)
Art Tremaine and his clean Class B Lakester at the July 1949 S.C.T.A. lakes meet. It looks like the Strokers member's car was also chick magnet. It was powered by a 249" '46 Merc with Edmunds heads, Navar ro intake, Smith cam and Potvin ignition. We don't have a speed for him that day. We last saw the car set up for draging in the March '58 issue of Hot Rod Magazine with Olds power and owned by Buck and Bohls. Behind Art is Gophers member Conrad Weidel's "Special" powered by a 276" Ford with Evans speed parts that ran as a Class C Streamliner. A speed of 141.06 mph was recorded for a fifth in class. The car was normally seen racing at Carel Speedway by Connie.

©2019 AHRF/29L & 29S/Steve Memishian Collection

---

These museum-quality posters from AHRF are vivid prints made on thick and durable matte paper. A statement in any room, these puppies are just the accent your room, office, or auto shop needs.