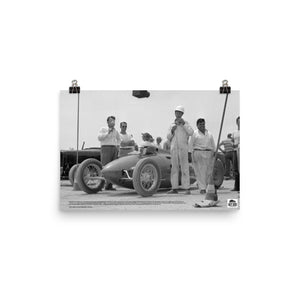 Historic Print #12: Bob Tattersfield's Streamliner (1949)
Road Runner member Bob Tattersfield turned up only one time during the 1949 S.C.T.A. season with his Class C Streamliner. On May 7th-8th running as car number 100, the machine turned 141.73 mph to grab a first in class on a 149.40 record with its Ansen Automotive/Bob Morton built 289" '41 Merc. It was fitted with Tattersfield parts naturally and a Winfield cam. The tall gent buckling up his helmet is none other than Wally Parks who guest drove more than one race machine on the sly. To his right is sometimes friend, sometimes enemy Lou Baney. To add even more intrigue, future Corvette guru Dick Gulstrand was on the crew too.

©2019AHRF/12L & 12S/Steve Memishian Colection.
---

These museum-quality posters from AHRF are vivid prints made on thick and durable matte paper. A statement in any room, these puppies are just the accent your room, office, or auto shop needs.