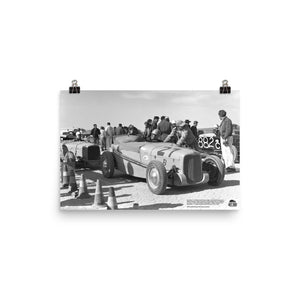 Historic Print #06: Harvey Haller at the Lakes (1948)
This June 5, 6 1948 shot shows Harvey Haller of the Road Runners in his Class B Roadster. It was powered by a '38 Ford flattie and ran 120.96 mph for a sixth in class. To the right in number 882 is "Dago" Cantarini at his lakes debut. A '41 Merc flat motor got the car up to 116.12 mph.

©2019AHRF/6L & 6S/SteveMemishianColection.

---

These museum-quality posters from AHRF are vivid prints made on thick and durable matte paper. A statement in any room, these puppies are just the accent your room, office, or auto shop needs.