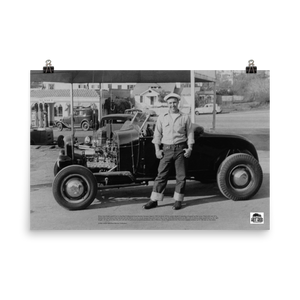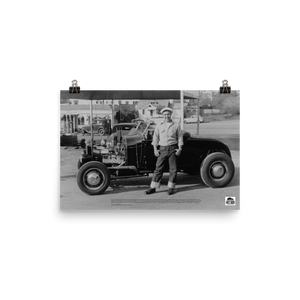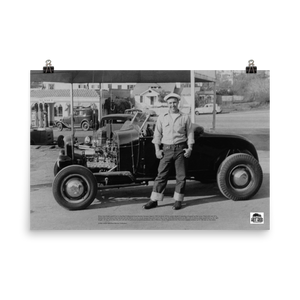 Historic Print #50: Model A at E. Hollywood Auto Service Garages (1947)
One Cool Dude paid a visit to the East Hollywood Auto Service Garages back in 1947 to show off his stylish Model A sporting a hopped up flat motor fitted with twin 97's. Seems this was before they had pre-shrunk fabrics so you would always buy your Levi's way longer than they should be so after a lot of washes they would end up the right length. On the left in the rear you can see the primered in-build A on Deuce rails of Morton-Rubio that became the first stock bodied roadster to hit 150 mph at the Lakes.

©AHRF/Bob Morton Collection

---

These museum-quality posters from AHRF are vivid prints made on thick and durable matte paper. A statement in any room, these puppies are just the accent your room, office, or auto shop needs.