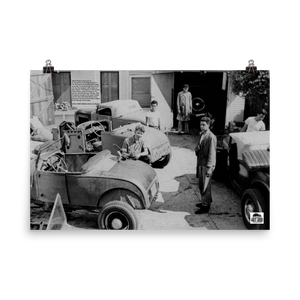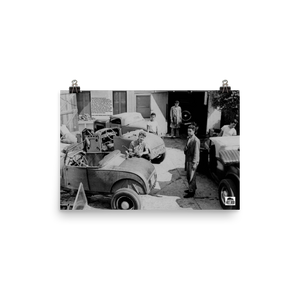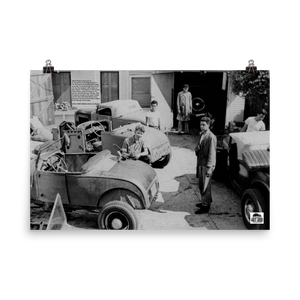 Historic Print #49: Robert Rubio's Back Yard in Los Angeles (1949/50)
Teenager Robert Rubio's back yard at 440 N. Occidental in Los Angeles back in '49-'50 looked like an automotive repair shop after it was taken over by a few of his RoaDusters Car Club buddies. Left to right are Stan Warren. Al Rodriguez, Fred Ramirez, Robert Rubio, unknown laying on the ground, and Richard Lazo. Wonder what his parents thought of the mess? Robert and his other friend Bob Morton were partners in the first stock bodied roadster to hit 150 mph at the Lakes.

©AHRF/Bob Morton Collection

---

These museum-quality posters from AHRF are vivid prints made on thick and durable matte paper. A statement in any room, these puppies are just the accent your room, office, or auto shop needs.