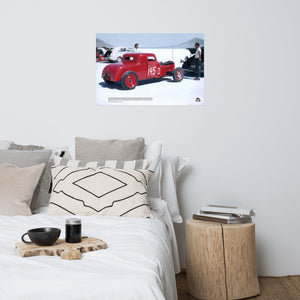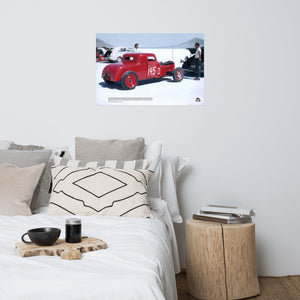 Historic Print #48: Tom Cobbs '29 Ford Coupe at Bonneville (1951)
Tom Cobbs from Santa Monica, CA ran his converted '29 Ford Roadster in Class D Modified Coupe at Bonneville in 1951. Its top started life on a 5-window body. Its rear quarter windows were filled, the top chopped and then the whole thing was bolted on a Roadster body. With more body fudging and new doorstops fitted, Tom now had himself a unique Coupe. A Cobbs-built 268" flattie was the mode of power. Tom went out and ran 154.639 mph to take first in class then went on to establish a new, class record at 155.320 mph. The car was also a terror on So-Cal drag strips.

©AHRF/David McConaughy Collection

---

These museum-quality posters from AHRF are vivid prints made on thick and durable matte paper. A statement in any room, these puppies are just the accent your room, office, or auto shop needs.