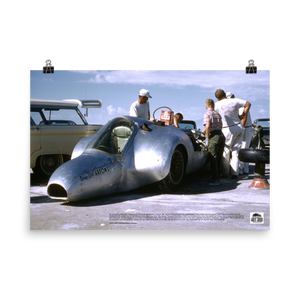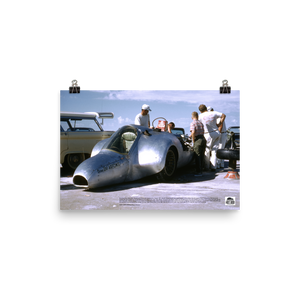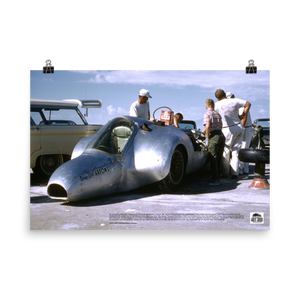 Historic Print #46: Art Afrons Streamliner at Bonneville Speedweek (1961)
Art Arfons from Akron Ohio showed up for Bonneville Speedweek in August 1961 with this Arfons-Snyder twin supercharged 1,710 ci Allison Aircraft engined Class A Streamliner that ran as car number 222. We wonder how Art felt sitting up front without any "Feel" after Mickey Thompson and Nathan Ostich had decided not to run on the rainless and bumpy short-course-only track. By the end of the week, Art had managed to run a quick 313.780 mph to take a first in class and top speed of the meet but was short of Mickey Thompson's Challenger 1 record set in 1960 at 354.330 mph. Art went home questioning his car's design concept. That's Jimmy Deist on the right, with his hand on his waist, who looked after the 14" ring-slot chute used on the car.

©AHRF/Dean Moon Collection

---

These museum-quality posters from AHRF are vivid prints made on thick and durable matte paper. A statement in any room, these puppies are just the accent your room, office, or auto shop needs.