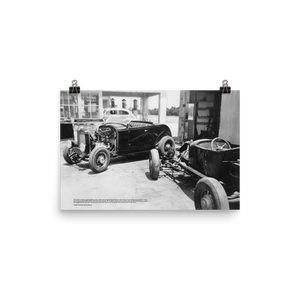 Historic Print #41: Hot Rod Hangout (1940)
This 1940 shot shows a typical California service station and garage building where hot rodders hung out and had their cars worked on. On the left is a Deuce minus fenders with its 'shield laid back real good. On the right is a Southern Ascot and/or Lakes job with central steering. It sports the number 14 on the door and a Chrysler tubular front axle. Note the rear spring ends were torched to get it to ride lower.

©AHRF/Frank Munis Collection

---

These museum-quality posters from AHRF are vivid prints made on thick and durable matte paper. A statement in any room, these puppies are just the accent your room, office, or auto shop needs.