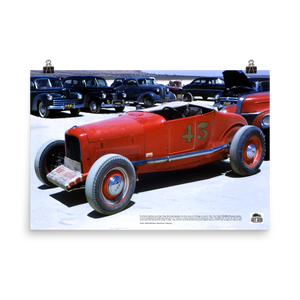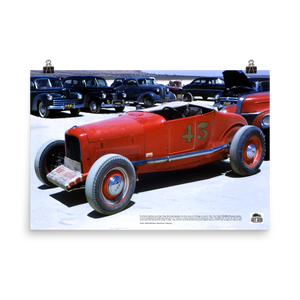 Historic Print #38: Holden Brothers' Modified Roadster at El Mirage (1951)
The Holden Brothers out of San Diego flew Road Ramblers Car Club colors at El Mirage on June 6, 1951, Their Class B Modified Roadster, thanks to some cardboard and a belly-pan, featured a '27 T body on a Deuce chassis and was powered by a 248" Ford flattie V8. The car ran 128.571 mph at the meet that was good for a sixth in class. They took the car to Bonneville at the end of August and ran 133.531 mph to capture a 12th in class.

©AHRF/Steve Memishian Collection

---

These museum-quality posters from AHRF are vivid prints made on thick and durable matte paper. A statement in any room, these puppies are just the accent your room, office, or auto shop needs.