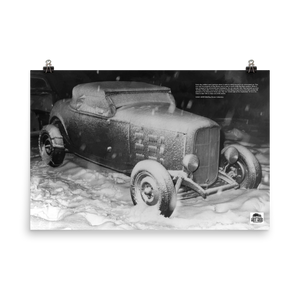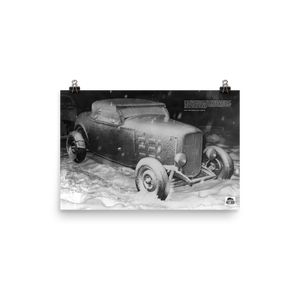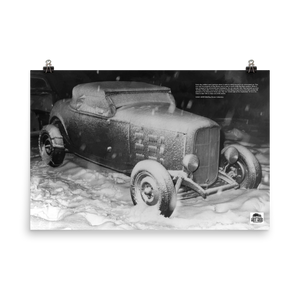 Historic Print #35: Ray Brown's Roadster in Big Bear
Early day rodders were hardcore when it came to riding around in an uninsulated car. This one was the property of Ray Brown and is seen in some chilly Big Bear weather. When it was stripped of its windshield and headlights, the car was also fast. Ray had built up a hot '46 Merc flattie after hours while working at Eddie Meyer Engineering and with number 99 painted on the Sherwood Green ride, Ray ran 123.62 mph at the September '47 S.C.T.A. meet to take 10th in class out of 86 entries.

©AHRF/Ray Brown Collection

---

These museum-quality posters from AHRF are vivid prints made on thick and durable matte paper. A statement in any room, these puppies are just the accent your room, office, or auto shop needs.